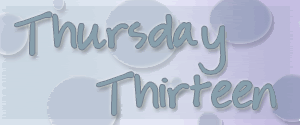 Get the Thursday Thirteen code here!  The purpose of the meme is to get to know everyone who participates a little bit better every Thursday. Visiting fellow Thirteeners is encouraged! If you participate, leave the link to your Thirteen in others' comments. It's easy, and fun!
I went a little comma happy in that last post.  I suppose it's what happens when I write in a train-of-thought style at nearly 10:30 pm.  
Labor Day Weekend starts tomorrow – wait, what?  This summer flew by.  Maybe that's why I've been in a mood to get organized lately.  Autumn tends to be my busiest season.  Work is usually crazy all the way through the end of December.  New England is on full look at me!!!! display, so there's a ton of stuff to do on the weekends and never enough time to fit it all in.
But here are Thirteen Things I Plan to Do This Autumn:
1) Stitch shopping trip.  Two more local needlework stores (LNS) in New England have announced they're closing, leaving me with only two viable options in the region to go stash fondling.  Before that happens, I need at least one great road trip, hopefully with money in my wallet that can be spent.
2) The Big E.  New England has a regional fair instead of state fairs, and it goes for a couple weeks and is insanely huge.  Now that Max is fascinated with everything he can see, I'm thinking a day at the fair may need to be a yearly occurrence.  I loved going as a kid to MontanaFair, and I'm hoping that Max will be the same way with the New England version.
3) Wanderlust drive.  Before I became pregnant, I'd occasionally hop in the car, pick a state route number, and just go for a drive by myself.  I've oddly never done it during autumn.  This year, I will do so.
4) Kid Consignment Sales – I've never been, and I've heard they're a great way to stock up.  I've already bought a ticket for the first evening of the RI Kid's Consignment Sale on Sept. 24th.  I'm hoping to investigate a couple others in the region as the weeks roll on.
5) Visit my parents – My dad came back east yesterday.  Erich and I are heading to Pennsylvania on Saturday to do the whirlwind Mel Family Tour in five days for an extended Labor Day Weekend trip.  My dad's 70th birthday is coming up in September, so the focus of this visit is more for him this go-around.
6) Finish At Least One Stitch Project – I have a few that are pretty close to being completed.  I just need to get on it.
7) Ornament Stitching – with the exception of ornaments, I refuse to acknowledge the holiday season until the day after Thanksgiving, regardless of how much society pushes the ever-increasing length of Christmas.  Ornaments need time to complete, so sometime in September, I'll get to work so they're done with plenty of time for exchanges/gifts.
8) Get my planner together.  Following up from my post last night – I want to get organized.  I know I'll need to tinker a lot to find what works best, and I'd like to get some sort of a comfortable system down by the end of the year.  I'll need to work through at least a couple of months to iron out the kinks.
9) Tidy up the blog.  I need to clean up my sidebar in a major way, get some plugin updates, and do some general category and tag tidying.  Plus one of these years, I would like to clean out the double posts from years back that my LiveJournal import caused.
10) Update my blog reading list.  Now that Google Reader is dead, I'm out of the loop.  I haven't had time to get a new blog reading list together at all.  I have a new phone and an opportunity to build a new list from scratch.
11) Blog More.  Self explanatory.  I have a couple of ongoing blog series ideas that I want to play with, plus I just want to get myself writing more. It feels good.
12) Update Max's baby book.  I haven't touched the thing in two months.  Gah.
13) Spend some serious time with my husband.  Erich and I have been running around like crazy people since Max came.  We need a little time together.
– Mel.